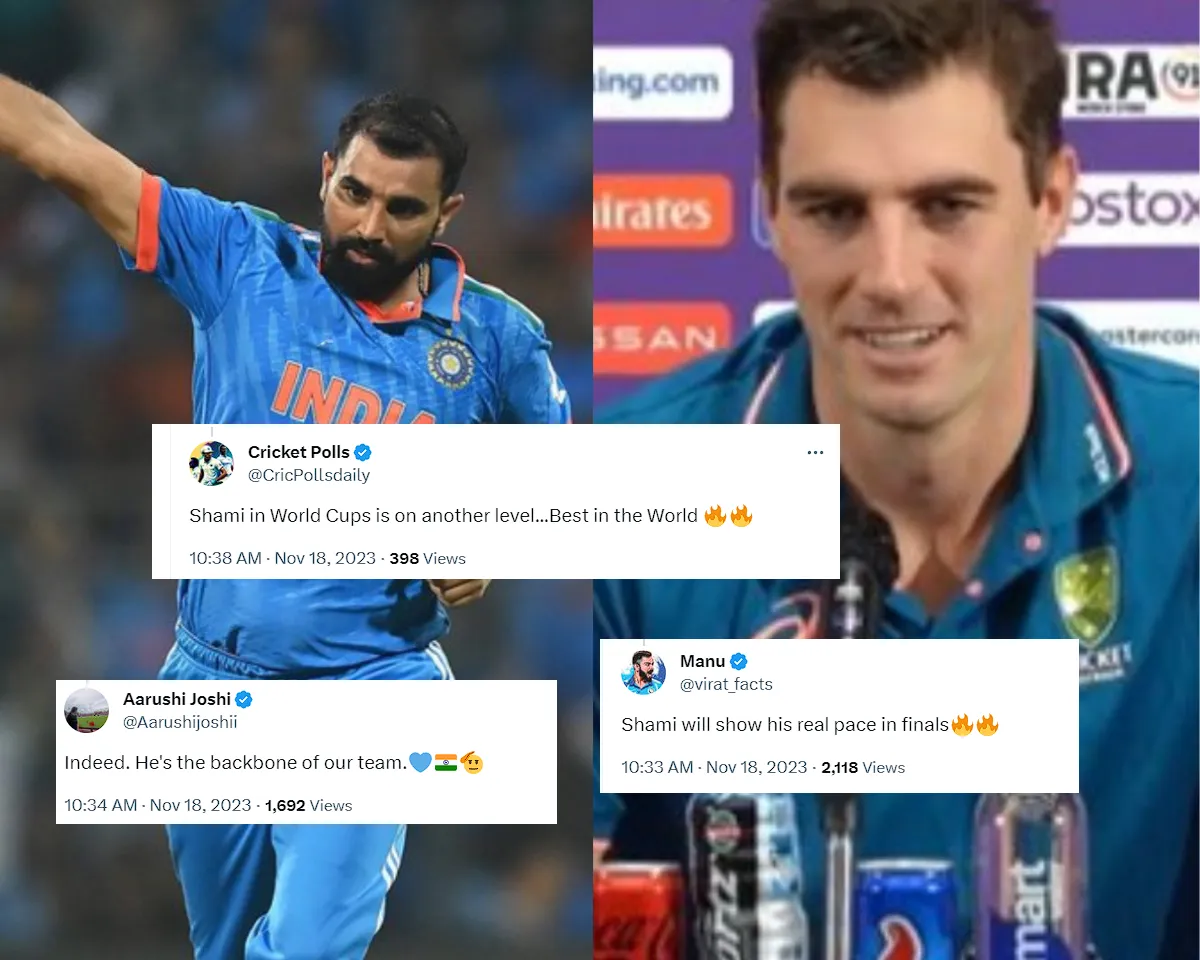 In the press conference ahead of the 2023 World Cup final between India and Australia, captain Pat Cummins acknowledged that Mohammed Shami poses the most significant threat to his team in the title clash. Despite not featuring in the playing 11 for the first four matches, Shami, who joined the team after Hardik Pandya's injury, has been formidable. With an impressive tally of 23 wickets in six matches, Shami is a leading contender for the Player of the Tournament award, showcasing exceptional form.
Also, at the time of the press conference preceding the summit clash, Australia captain Pat Cummins identified Mohammed Shami as a significant challenge from the Indian team, acknowledging India's overall strength. Cummins also commented on the Ahmedabad pitch. Prior to the World Cup semi-final, there were reports of accusations regarding pitch manipulation, suggesting a change from a new pitch to an old one. However, the Apex Cricket Council also clarified that there is no rule mandating new pitches for knockout matches, and Atkinson was informed of this in advance.
In addition to this, there were also questions raised on the pitch as it has been in trend from India's semifinal clash. Moreover, regarding the Ahmedabad pitch, Cummins even said, 'It is clearly the same for both the teams. There is no doubt that there are some advantages to playing in your own country, on your own wicket. But we play a lot of cricket here.
Let us look at how Twitter has reacted to this:
Yes he is 😉❤️ pic.twitter.com/eMUSjLit29

— Pankaj (@Pankaj41627) November 18, 2023
And Australia's biggest fear in the final🔥

— Yogesh (@yogeshontop) November 18, 2023
Indeed. He's the backbone of our team.💙🇮🇳🫡

— Aarushi Joshi (@Aarushijoshii) November 18, 2023
Shami will show his real pace in finals🔥🔥

— Manu (@virat_facts) November 18, 2023
Sachin Tendulkar and Yuvraj Singh likely to attend the World Cup Final on Sunday. pic.twitter.com/MgIjMOe10e

— Im_fab (@Im_fab1211) November 18, 2023
It's pretty bad that we kept him out of eleven in few matches. What say?

— Baatein (@TeriMeriBaatein) November 18, 2023
Shami in World Cups is on another level...Best in the World 🔥🔥

— Cricket Polls (@CricPollsdaily) November 18, 2023
Shami bhai 🔥

— बेरोजगार BSTC विद्यार्थी (@BrajlokGurjar) November 18, 2023
Both finalists are riding on winning streaks
In the tournament, India's exceptional performance has propelled them to the status of unbeaten finalists, winning all 10 matches. They emerged victorious in all nine league games, securing the top position in the league stage. On November 15, in the first semifinal at Mumbai's Wankhede Stadium, India sealed a 70-run win against New Zealand.

 

In contrast, Australia secured a 3-wicket victory in the second semifinal against South Africa at Kolkata's Eden Gardens on November 16. Despite early setbacks with losses to India in the opener and South Africa in the league stage, Australia heads into the final with an impressive eight-match winning streak.