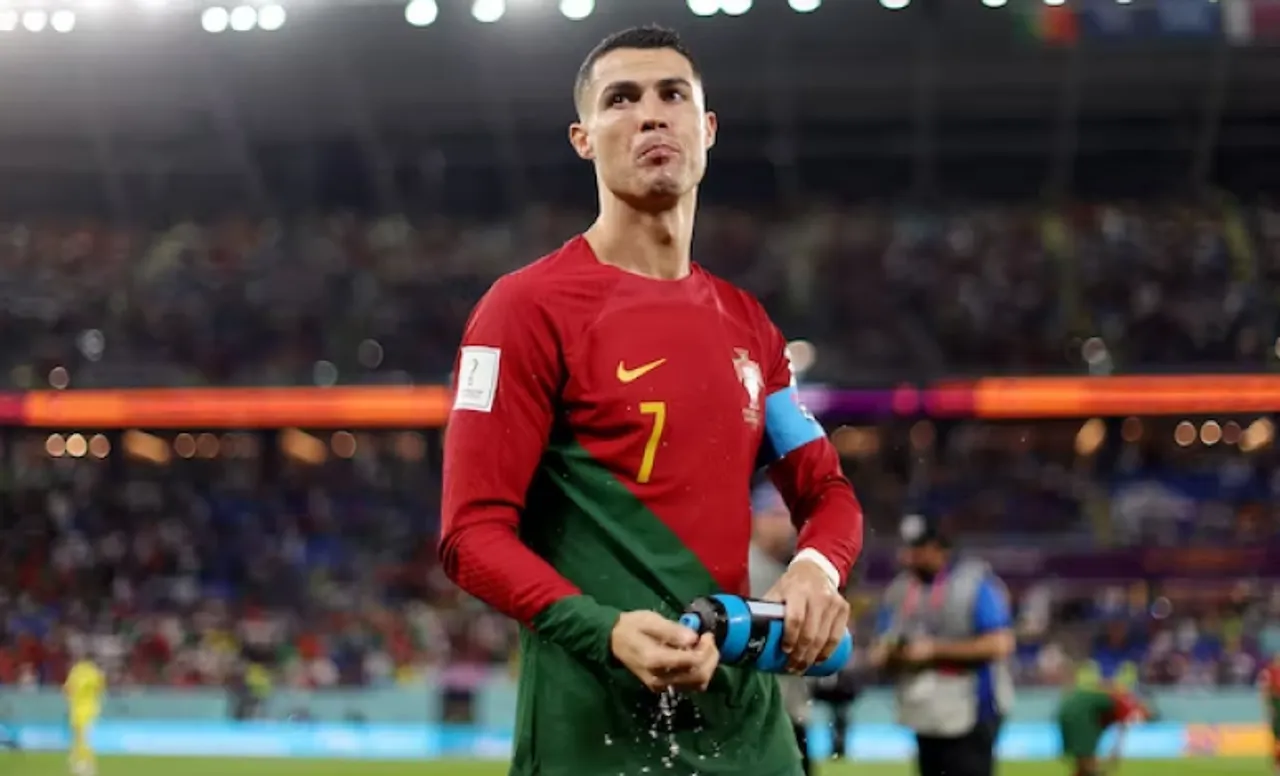 In the match between Portugal and Ghana Cristiano Ronaldo becomes the only male footballer to score a goal in five FIFA World Cups surpassing Pele, Seeler, Klose, and Messi. Now, he is also the youngest and oldest goal scorer for Portugal in the tournament. Marta of Brazil and Canada's Christine Sinclair have also scored at five World Cups among women footballers.
Eventually, Portugal registered a win of 3-2 against Ghana in their tournament opener and started their campaign in the FIFA World Cup 2022 with a win. Apart from the action of the match the 37-year-old senior center-forward also made it to the headlines for some other reasons.
In a surprising display of visuals from Doha's Stadium 974, Ronaldo was seen in tears at the time of Portugal's national anthem before the match against Ghana. The video of this moment immediately went viral over social and made the fans react with their emotions for the legendary footballer of all time.
Here's how fans reacted:
Out of this world 🇵🇹

🖐 Cristiano Ronaldo becomes the first man to score at five FIFA World Cups#FIFAWorldCup | @Cristiano pic.twitter.com/3UKqXLsZWd

— FIFA World Cup (@FIFAWorldCup) November 24, 2022
Cristiano Ronaldo was in tears before playing in his fifth World Cup 🥺 pic.twitter.com/54kvAHzFLc

— B/R Football (@brfootball) November 24, 2022
Cristiano Ronaldo's tears while chanting the anthem 🥹#PORGHA | #FIFAWorldCup
pic.twitter.com/9zpm4HVnXL

— 🆉🅸🆉🅾🆄 (@zi_46) November 24, 2022
Only haters and Messi fans saying this is not a penalty lol, Ronaldo got the ball first, Salisu kicked the back of Ronaldo's boot before getting to the ball, but I'm loving yall tears tho 😂. pic.twitter.com/sqVCTKG81M

— Andy🦁🧘🏾‍♂️🇵🇹 (@TrueStoryWayy) November 24, 2022
RONALDO BECOMES THE FIRST MEN'S PLAYER TO SCORE IN 5 CONSECUTIVE WORLD CUPS 🐐 pic.twitter.com/KRTgFZF3rV

— ESPN FC (@ESPNFC) November 24, 2022
Other than this nail-biting thriller between Portugal and Ghana, Switzerland also took on Cameron, Switzerland under the captaincy of senior central mid-fielder Granit Xhaka also locked horns with Cameron in their tournament opener of the FIFA World Cup 2022. It wasn't to say that the match was inclined to either of the sides both teams gave a tough contest to each other in the entire 90 minutes of the game.
In another match on the fifth day of the FIFA World Cup 2022, Five-time champions Brazil started their campaign in FIFA with a convincing win of 2-0 against Serbia in their tournament opener. A brilliant display of defense from Serbia in the first half including brilliant efforts from their goalkeeper Vanja Milinkovic. But the star Brazilian center-forward Richarlison succeeded in penetrating it with two consecutive match-defining goals in favor of the Seleção. Yeah, the second goal from Tottenham star is probably the best goal of this ongoing edition so far. Eventually, it ended with a cherishing score line of 2-0.