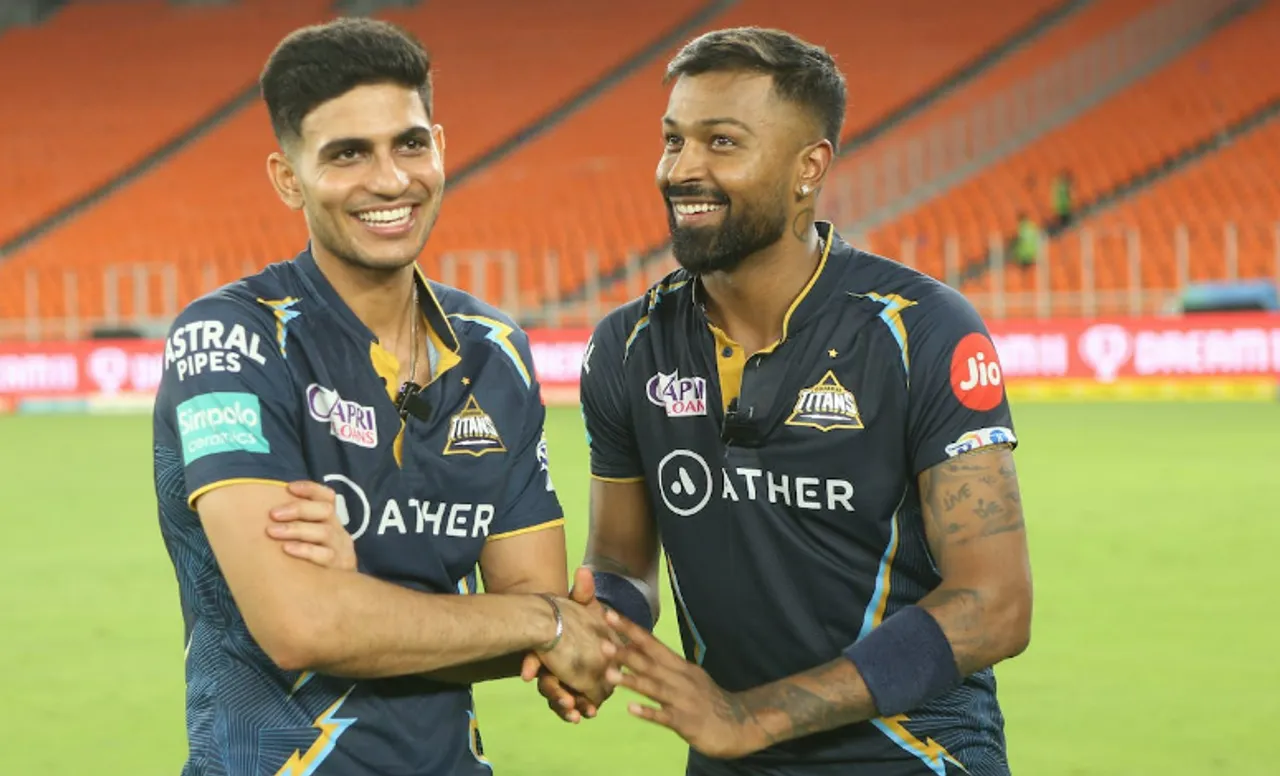 The stage was set at Narendra Modi Stadium, Ahmedabad when Gujarat Titans (GT) took Mumbai Indians (MI) in qualifier two of IPL 2023 on 26 May. But, it was Shubman Gill who lit up the stadium with his third IPL ton. He smashed 129 runs off 60 balls, including seven fours and 10 sixes. 
He also won the Player of the Match award for such a blistering knock. Gill's knock helped GT to score 233 runs for three wickets in 20 overs. In reply, MI got bundled out for 171 runs and GT won the match by 62 runs. But, after the match, in an exclusive chat, Gill praised his skipper, Hardik Pandya for backing him.
"He's a superstar who will do big things for the franchise and the country." - Hardik Pandya on Shubman Gill
Gill joined GT last season and he was crucial for the team in their title-winning season. In IPL 2022, Gill scored 483 runs in 16 matches, including four fifties. Now, he has scored 851 runs in 16 matches this year, including four fifties and three centuries. In the last four innings, he has smashed all three centuries. After the knock, during the post-match presentation, Pandya heaped high praises for Gill. He said: "Shubman's clarity and amazing innings is what's keeping him on top. He wasn't rushed or not in control at any point. He's a superstar who will do big things for the franchise and the country."
"I think the clarity and confidence he is carrying is amazing. Today's innings was one of the finest, he never looked rushed. It felt like someone was throwing balls and he was hitting," he added. After that, in an exclusive chat, Gill said: "Before joining Gujarat Titans last year, Hardik Pandya clearly told me to bat the way I want to. He gave me the confidence to back my cricket". Listening to such a statement from the star batter, fans shared their views on social media.
Here is how fans have reacted:
My kaptaan🫡🩵

— ⚔︎ (@itzritzie) May 27, 2023
GT's New Captain Gill ✍🏻

— 𝙍 𝙔 𝘼 𝙉 ⚡ (@Marcmarques_) May 27, 2023
Future captain 😎

— jashh (@JashViratian82) May 27, 2023
Hn shubman bhai, aapko jese kkr mai alag batting style mai batting karne ko bole the, lekin wahan pe perform nahi kia

— Pratyush (@Shuvam_2305) May 27, 2023
Hardik pandya 🐐

— ✶ 🎀 𝒟𝒶𝓀𝓈𝒽 𝑔𝒾𝓁𝓁 🎀 ✶ (@screwgauge77) May 27, 2023
the myth,leader,legend captain hardik panday

— BackFoot || open mudgal committee envelope (@82_MCG_classic) May 27, 2023
Hardik deserves a lot of credit for backing players and letting them play their game. Gill is a top notch player but Shankar and Mohit Sharma literally messed up ipl. Bt now both have improved a lot. I mean a lot. Nehraji deserves credit as well. He is actively involved.

— VK (@prophecy2094) May 27, 2023
Ofc he knows that Shubman will carry him just like Mi batting lineup carry Rohit

— 𝑹𝒊𝒔𝒉𝒂𝒃𝒉 𝒊𝒔 Life (@Pant_life) May 27, 2023
U can call him chapri, arrogant but hardik pandya as a captain >>> rohit

— 𝐊𝐚𝐢𝐟𝐮 ❥︎ (@Youknowkaifu__) May 27, 2023