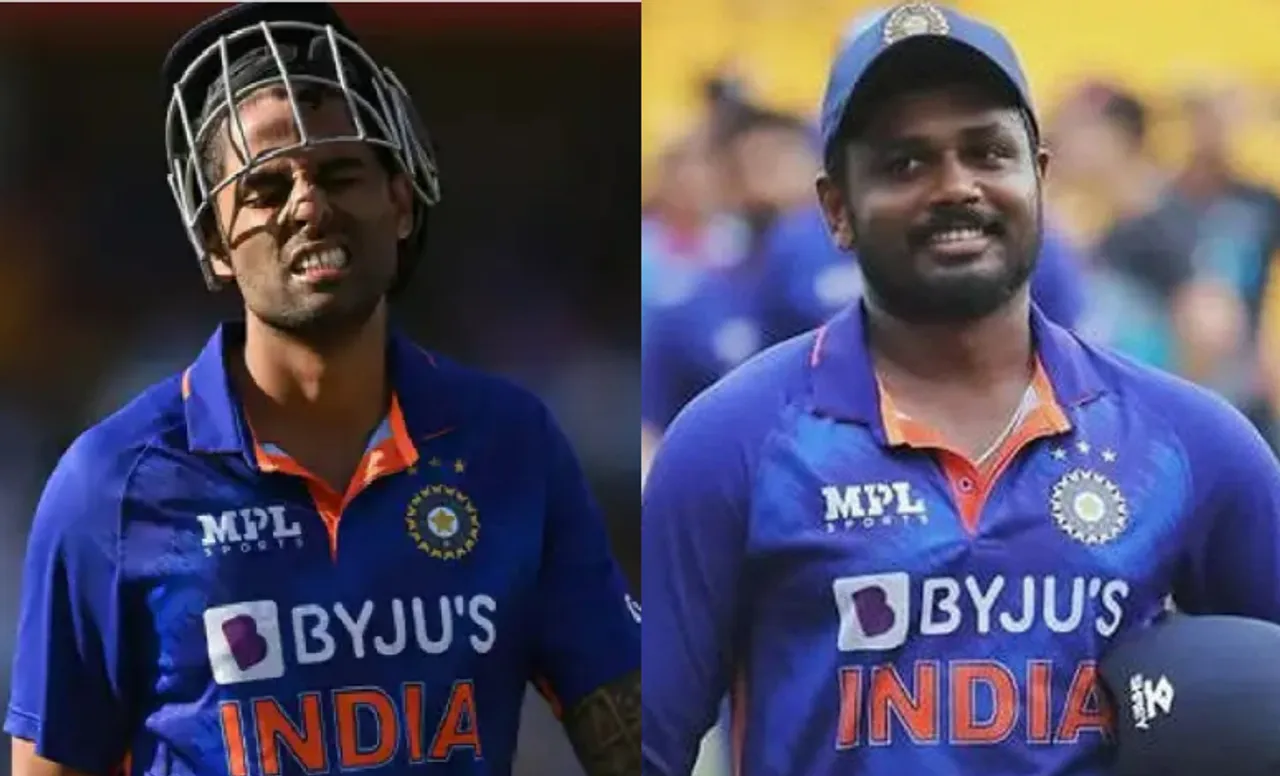 Team India are currently playing in the ongoing three-match ODI series at home against Australia. They won the first match of the series by five wickets despite having a batting collapse at the top order. Shreyas Iyer got ruled out of the series due to his back problem. So, fans were expecting to see Sanju Samson as his replacement.
But, no replacements have been announced till now as team India went with Suryakumar Yadav at the number four position in the first match. In that game, Surya failed to score as he got out on a golden duck. Still, fans were hoping for a better performance in the second ODI. But, he managed a golden duck once again.
Sanju Samson scored 284 runs in nine ODIs in 2022 for team India
So, fans were not happy. They came up and blamed the team India management for favouring Suryakumar over the young wicketkeeper batter, Sanju Samson. Sanju had an excellent 2022 in ODIs for team India. In that year, he played nine ODI innings and scored 284 runs with a strike rate of 105.6. His average was 71 including two fifties. His last ODI match was in New Zealand after the 20-20 World Cup in 2022. However, he got a knee injury during the home T20I series against the Lankans and got ruled out of the series. But, currently, he has recovered fully and can join the team if he gets a chance.
Samson has always found difficulties in getting into the team despite performing in domestic tournaments. So, fans have always raised their voice against the Board and team management for running an agenda against Sanju Samson. They have always claimed that some batters despite not having better stats than him get favoured by the team across all three formats. So, after the back-to-back failures of Suryakumar Yadav, fans came up and called out for the inclusion of Samson in the team as soon as possible, especially in the ODI format.
Here is how fans have raised their voice in support of Samson:
BCCI In ODIs.....Suryakumar Yadav vs Sanju Samson : pic.twitter.com/ezIu9RdsY9

— UmdarTamker (@UmdarTamker) March 19, 2023
Shreyas Iyer and Sanju Samson are two suitable No.4 players for India in ODIs.

— Pratham. (@76thHundredWhxn) March 19, 2023
Still BCCI And Rahul Dharavid Will Prefer Surya Over Sanju Samson 🥲.#SanjuSamson #samson #SuryakumarYadav #BCCI pic.twitter.com/yEYZ2D1h7d

— Aufridi Chumtya (@ShuhidAufridi) March 19, 2023
Sorry to say SKY might be the best T20 batsman in the world but he doesn't belong in the ODI set up.

Even Sanju Samson can provide more stability in the absence of Shreyas Iyer than SKY.

— Avinash (@imavinashvk) March 19, 2023
They had some agenda against deserving #SanjuSamson, didn't include him to squad even when Iyer was injured apart frm Rohit's unavailability for 1st ODI.
Now they will have to play SKY again (golden duck x 2)..
Just mentioning Sanju Samson's ODI avg is 66 & S/R is 105.. pic.twitter.com/Kzcgnnsix5

— Amal Sudhakaran (@amal_sachinism) March 19, 2023
Sanju Samson should be getting these chances instead of Surya in ODIs. #INDvsAUS pic.twitter.com/NCa8mEF3M0

— Utsav 💔 (@utsav045) March 19, 2023
#INDvsAUS #AUSvIND #Vizag
Who is better player in ODI's?
Like ❤️ for Sanju Samson
RT 🔁 for Surya Kumar yadav pic.twitter.com/LaQXnswtNo

— 👌⭐👑 (@superking1815) March 19, 2023
Sanju Samson watching Suryakumar Yadav getting another 0.#INDvAUS pic.twitter.com/r3BTHJdIUN

— Pratik Singh (@officialpratiks) March 19, 2023
It's time to get this Beast Sanju Samson permanent place in middle order in ODIs

He is miles ahead of Suryakumar Yadav in ODIs pic.twitter.com/uQ4FokS2zv

— Vishal. (@SportyVishaI) March 19, 2023