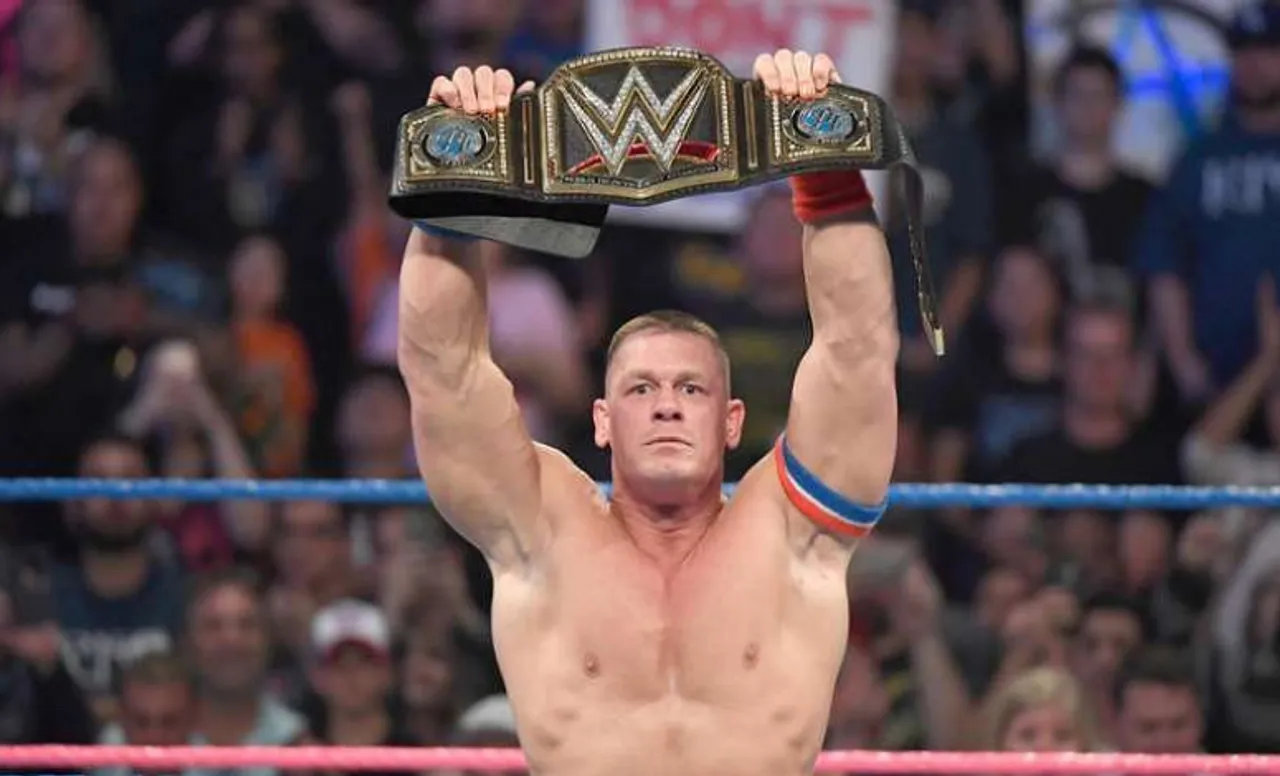 There are two kinds of people in the world. One, who fall in the category of 'Let's go Cena', and the other, who come in the category of 'Cena sucks'. Irrespective of which division you belong to, you cannot deny the fact the John Cena is among the greatest wrestlers to have ever stepped in the ring.
Winning a WWE title requires immense skills and talent and winning it 16 times is no joke. Only two Wrestlers to date have managed to win as many titles and one among them is John Cena. The other one is the Nature Boy, Ric Flair. Both these wrestlers went on to become the face of WWE. Today, in this article, we will relive John Cena's all 16 World Title victories.
Out of the 16 world titles that Cena won, 12 were the WWE titles while 4 were the World Heavyweight Championships. Cena claimed his first WWE title by defeating JBL at WrestleMania 21 in 2005. A year later, he defeated Edge to become the two time WWE Champion and further went on to defend his title against the same opposition at the Unforgiven (2006). Cena became the four-time World Champion when he claimed his first World Heavyweight Championship by defeating Chris Jerico at the Survivor Series in 2008.
Cena was involved in a triple threat match with Big Show and Edge at WrestleMania 25 and successfully defended his World Heavyweight Title title by pulling off his submission move, Attitude Adjustment on both his opposition. This is one of the most iconic moves in the history of WrestleMania. In the same year, he took on Randy Orton in an I Quit Match for the WWE title and emerged victoriously. The feud continued between the two at Bragging Rights (2009) and Cena once again gained the victory in an Iron Man Match.
Cena faced Triple H, Sheamus, Randy Orton, Ted DiBiase, and Kofi Kingston at the 2010 Elimination Chamber and went on to win his eighth title. He then took on Batista for the WWE Title at WrestleMania 26 and once again came out on top. Next year in 2011, Cena faced The MIZ and John Morrison in a steel cage match to claim his 10th World title. He then defeated Rey Mysterio on RAW to defend his WWE title.
He carried on his juggernaut and defeated Alberto Del Rio to become a 12 time World Champion. His next title victory came against The Rock at WrestleMania 29. He again defeated Alberto Del Rio to win his third World Heavyweight Championship at Hell in a Cell in 2013. His 15th title came when he emerged victorious in a Ladder match at the Money in the Bank (2014). Cena defeated Kane, Randy Orton, Roman Reigns, Alberto Del Rio, Sheamus, Bray Wyatt, and Cesaro for the World Heavyweight Championship. In 2016, he defeated AJ Styles at Royal Rumble for his 16th title.