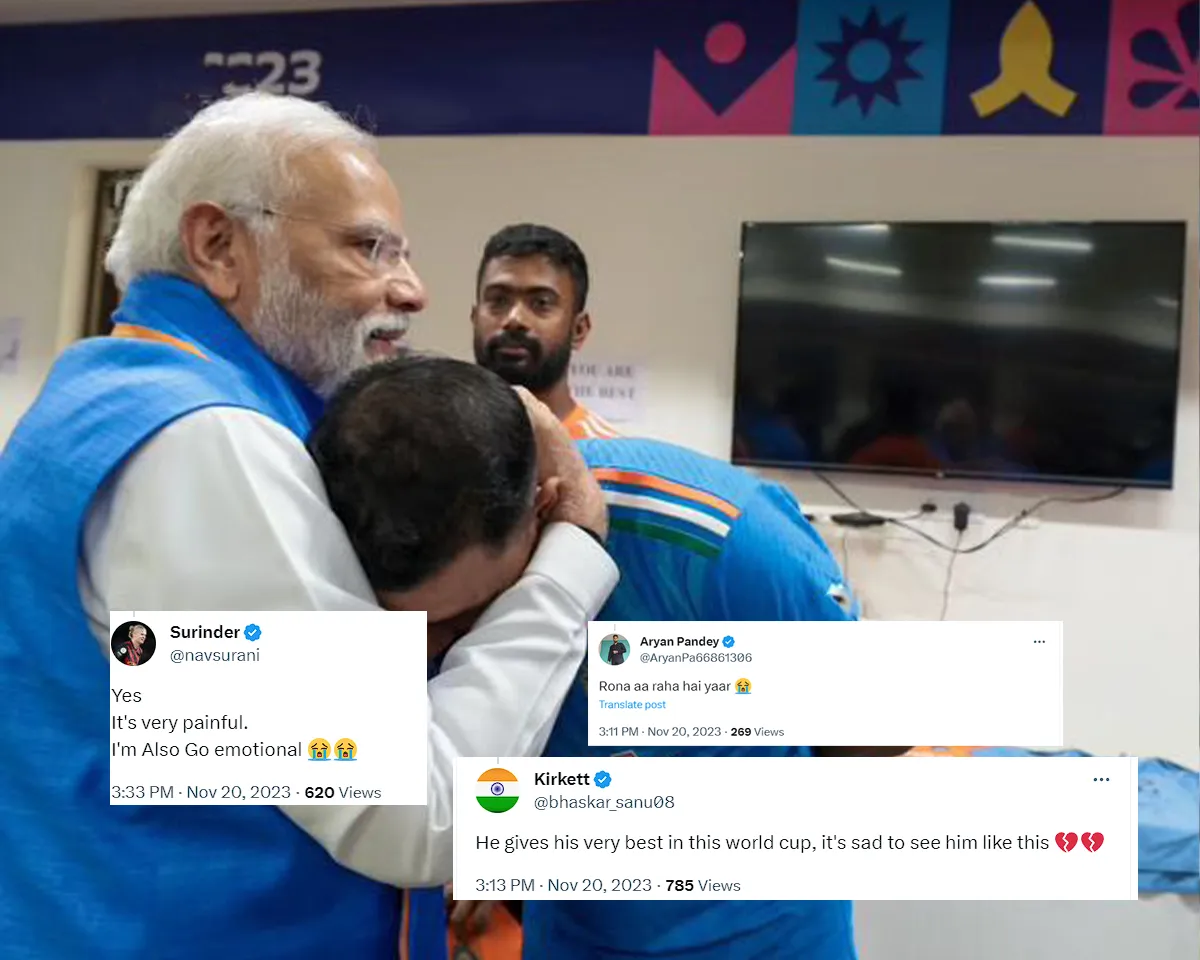 Team India had a tremendous outing in the 2023 ODI World Cup but their dominant surge was stopped by the mighty Australians. Pat Cummins and Co. registered a thumping 6-wicket victory in the final at the Narendra Modi Stadium on Sunday and clinched their sixth prestigious title. India were unbeaten till the semi-final, but their only loss came at the most crucial juncture. 
Australia calmed the 'blue sea' at the world's biggest cricket stadium which was ready to emerge as a tsunami, literally from the start. The 1.3 lakh-plus crowd was disappointed, the entire nation was heartbroken as they waited to witness their team end a 10-year drought of winning a major international title. So what might be the feelings and emotions of the 15-man squad who have given their all on the field for the past month and a half? 
The tensed faces were visible among the Indian fielders as Travis Head and Marnus Labuschagne put together a match-winning partnership. Mohammed Siraj burst into tears soon after Australia hit the winning runs. Virat Kohli, Rohit Sharma, Jasprit Bumrah, Mohammed Shami, all of them were seen hiding their faces. 
However, billions of Indian supporters, including celebrities, blamed the luck and applauded Team India's relentless spirit throughout the tournament. Prime Minister Narendra Modi, who watched India's heartbreaking defeat live, was among those who extended his support to the players. PM Modi took his official X-handle and praised the team's determination and talent. 
"Dear Team India. Your talent and determination through the World Cup was noteworthy. You've played with great spirit and brought immense pride to the nation. We stand with you today and always," he wrote.
PM Modi visits Team India's dressing room 
Meanwhile, the Prime Minister also visited Team India's dressing room after the final defeat. A picture of Modi consoling star pacer Shami has gone viral on social media. The veteran bowler later took to his social media to thank all the fans who supported the team throughout the tournament and expressed his gratitude to PM Modi as well. 
"Unfortunately, yesterday was not our day. I would like to thank all Indians for supporting our team and me throughout the tournament. Thankful to PM Narendra Modi for especially coming to the dressing room and raising our spirits. We will bounce back," Shami wrote. 
Notably, Shami is the leading wicket-taker in the tournament. He was sidelined in the first few matches, but later became India's trump card. The right-arm pacer has taken 24 wickets at an average of 10.71 in seven matches.
Here's how fans reacted to Prime Minister Narendra Modi consoling Mohammed Shami:
Acting band karo sab 😡

— ✭4тн-Uмριяε✭ (@4thUmpireHere) November 20, 2023
Yes
It's very painful.
I'm Also Go emotional 😭😭

— Surinder (@navsurani) November 20, 2023
Same Vibe 💀 pic.twitter.com/q5rKPQXFkw

— Jago India (@JagoIndia_) November 20, 2023
Shami Bhai you are suffering from several pain but this pain is bigger than Titanic 😭 , PM Modi your great gesture towards the team and shami Bhai your are King of our stay blessed and strong

— Lailaa (@mee_lailaa) November 20, 2023
It's making me cry 🥲🥹💔😭

— Blue Sapphire (@Bluesap26) November 20, 2023
Rona aa raha hai yaar 😭

— Aryan Pandey (@AryanPa66861306) November 20, 2023
He gives his very best in this world cup, it's sad to see him like this 💔💔

— Kirkett (@bhaskar_sanu08) November 20, 2023
Ap roye nhi, Modi ji apke pass hai. 🥺

— Vipin Tiwari (@Vipintiwari952_) November 20, 2023