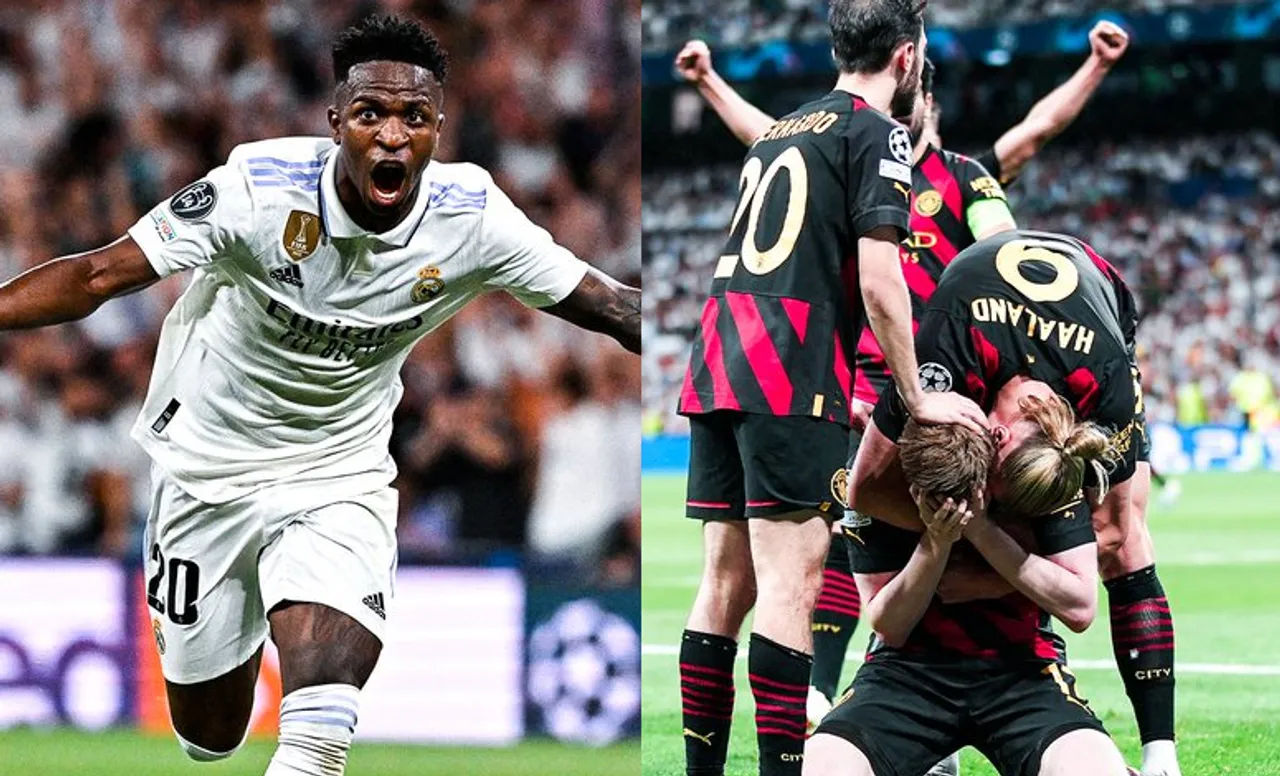 Real Madrid and Manchester City squared off in the first leg of the UEFA Champions League semifinal at Santiago Bernabeu. Pep Guardiola's City sought to get revenge for their painful loss to Madrid in the semifinal last season. However, the Los Blancos made life difficult for the visitors, but Kevin De Bruyne was able to score an equaliser in the second half to keep Manchester City's hopes of winning the match alive. Both Karim Benzema and Erling Haaland didn't really threaten the custodian. 
For the majority of the first half, the visitors had the upper hand and dominated possession. However, Eduardo Camavinga's quick forward movement in the 36th minute allowed Madrid to score. Vinicius was assisted by the French midfielder as he scored a stunning goal from just outside the penalty area. He did it by matching Cristiano Ronaldo's mark of 11 straight Champions League starts with a goal.
It was a shame that we conceded that goal: Luka Modric
For a large portion of the opening 45 minutes, Guardiola's team dominated. They didn't allow the moment to affect them, though, as they aimed for an equaliser in the second half. De Bruyne came within inches of scoring in the 52nd minute, but Thibaut Courtois of Real Madrid made a great save.
However, the fierce strike from a fellow countryman couldn't be stopped by the Belgian custodian in the 67th minute. Meanwhile, the legendary Croatian captain Luka Modric who plays as a midfielder for Madrid said after the match that they shouldn't concede the goal in the 67th minute of the match.
"It was a shame that we conceded that goal, I think we deserved more. They had more possession but didn't create a lot of chances. It's still 50-50 and we will go into the second match with confidence." Modric was quoted as saying by APN news.
Here's how fans reacted:
Perfectly set up for the 2nd leg in City's favour. It is theirs to win/lose.

— Sumukha (@theunsungprince) May 9, 2023
Referee 1 - 1 Real Madrid

— Just Frank (@Frank_Sinatr) May 9, 2023
LETS ROCK AT ETIHAD. CMONNNN CITY!!!!

— DS (@080816_) May 9, 2023
Man City will take this one

— Mthoko Mchunu (@MthokoPMchunu) May 9, 2023
What a match indeed, Man city is a well oiled machine.

— @LéCar_Guru (@Daniel_Sonje) May 9, 2023
What a refereeing in Madrid 🤢🤢🤢 pic.twitter.com/cfD7WjIQA6

— 1985 (@withcris_) May 9, 2023
Yeah.. cracker of a game!! Just that City was allowed to use hands also 🤮

— b12 (@b12_bhavesht) May 9, 2023
Vinicius jr is in a class of his own 🔥🔥🔥

— Eli Jah  (@elijah_Kaw) May 9, 2023
Why didnt Pep play Haaland?

— Sampsa🇫🇮🇲🇦 #XaviOut (@Sampsa__) May 9, 2023