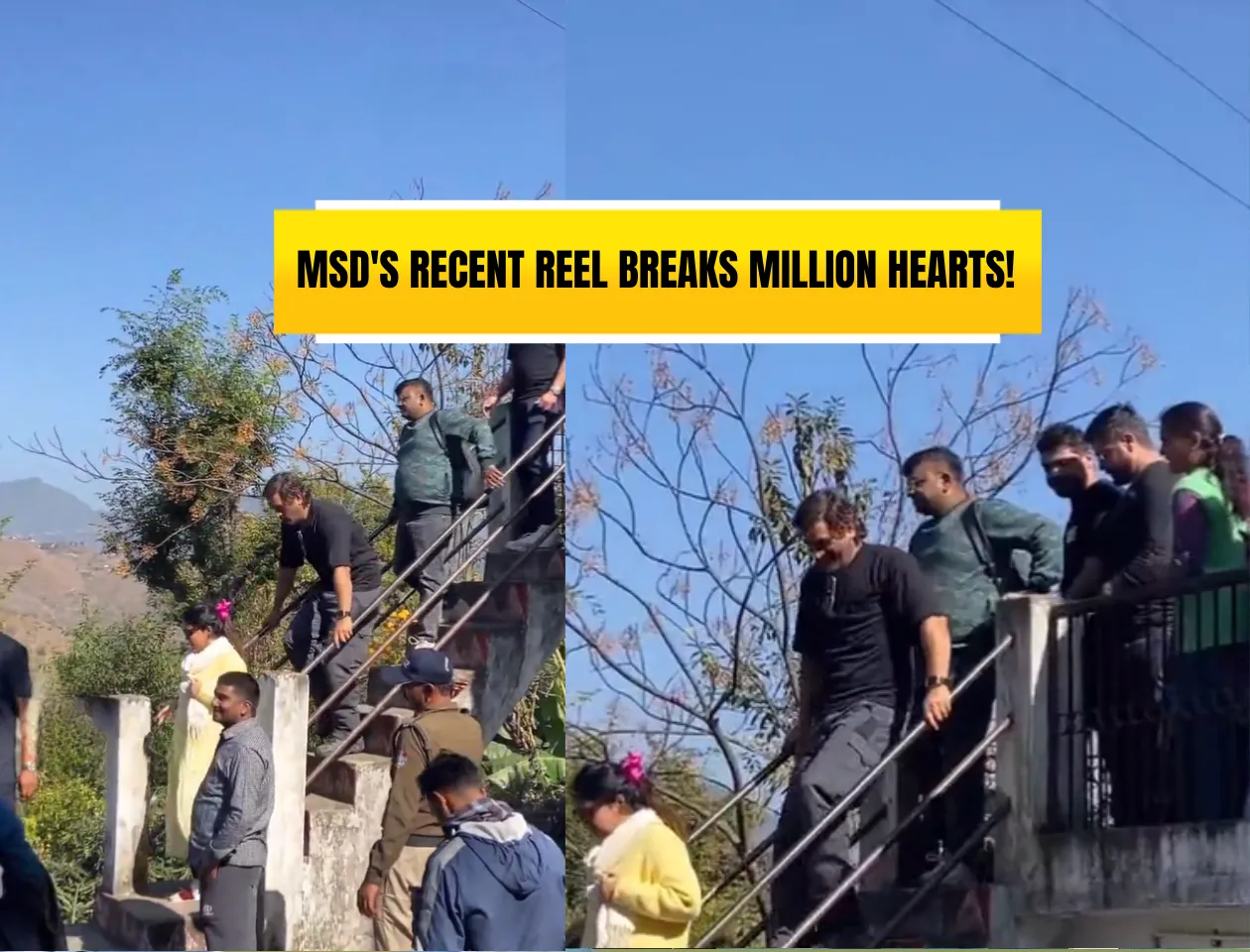 Former India captain MS Dhoni is enjoying his off time with his family, friends and relatives. The 42-year-old was last seen on the cricket field during the Indian Premier League (IPL) final, where he led Chennai Super Kings (CSK) to glory for the fifth time. Though not active on social media, Dhoni continues to trend on various platforms. Pictures and videos of his recent visit to Uttarakhand have been doing rounds on social media for some time now.
However, an Instagram reel that went viral on the internet recently gave his fans mixed feelings. Fans got to enjoy a half-minute video of Dhoni and his wife Sakshi enjoying time during the Uttarakhand trip. But the final footage of the video definitely breaks the hearts of millions of his fans. The legendary cricketer was seen limping while descending the stairs. 
A short clip of MSD coming down the stairs, with his knees struggling, is captioned, "Brooo Dhoni's knees aren't giving me confidence. Hope he has one more season in him." This has raised concerns among fans about whether Dhoni will play in the upcoming IPL season. 
Here's the short clip of Dhoni struggling with his knees:
Brooo Dhoni's knees aren't giving me confidence ☠️ Hope he has one more season in him. pic.twitter.com/az62tcfmh9

— Silly Point (@FarziCricketer) November 21, 2023
Watch the full reel here: 
November 21, 2023
Notably, Dhoni had undergone knee surgery earlier this year after sustaining an injury during the IPL 2023. "He (Dhoni) is nursing a knee injury, which you can see in some of his movement, which is hindering him somewhat," CSK coach Stephen Fleming said after an IPL 2023 match. Despite knee issues, he played every match for the franchise and led them to a record-equalling title win.
Throughout the last IPL season, there were rumours that Dhoni would not play IPL 2024. However, when the man himself was asked the same question after the final, Dhoni hinted that he would be back next season.
"If you see, this is the best time to announce my retirement. But the amount of love and affection I have been shown wherever I have been this year, the easy thing would be for me to say "Thank you very much", but the tough thing for me is to work hard for another 9 months and come back and play at least 1 more season of IPL. A lot depends on the body, I have 6-7 months to decide. It will be more like a gift from my side, it's not easy for me but that's a gift. The way they've shown their love and affection, I think that's something I need to do for them," Dhoni said after winning the IPL 2023.