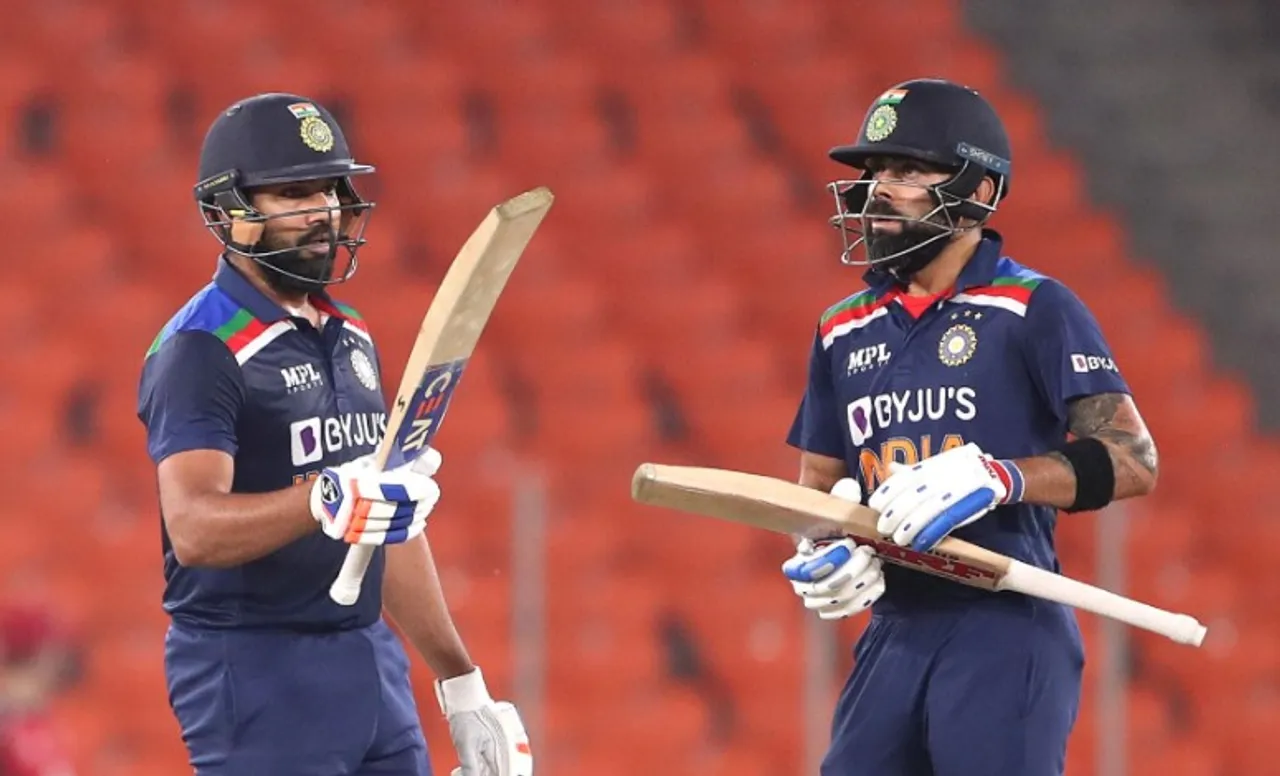 Virat Kohli promoting himself at the top has solved India's opening conundrum. Though it's not certain that he'll permanently open for India, there is a high possibility that he may do that in the T20 World Cup, considering the poor form of KL Rahul and Shikhar Dhawan. The 5th T20I was the first instance of Virat Kohli opening with Rohit Sharma and what a move it turned out to be as the duo blasted 94 in just 9 overs, laying a foundation for a dominating win.
Former England skipper, Michael Vaughan has linked the duo with one of the greatest partners of all time - Sachin Tendulkar and Virender Sehwag. Vaughan added that just like Tendulkar used to play the anchor role, providing the stability at the top, while Sehwag used to go all out at the opposition, the partnership between Rohit and Kohli can do the same with Kohli emulating Tendulkar's role while Rohit being the aggressor.
"Yeah, as pretty on the eye as Sachin and Virender Sehwag were... I mean Sehwag would go out there and play from ball one because he knew he had the consistency of Sachin at the other end. And Sachin just batted, always had a great strike rate because he got tremendous options off-side, on-side, front foot, back foot and that's what Virat will bring to India," said Michael Vaughan.
Vaughan also lauded Suryakumar Yadav and said that his rise helped India to form a formidable top 3. 
"I was saying at the halfway house, have India stumbled across their best combination? We'll have to wait and see. This may have been a plan by Ravi Shastri and Virat Kohli to get to this combination but it seems to me they have stumbled across it. And because Suryakumar Yadav has played so well at No. 3, to me he looks like he's completely made for international cricket, Virat had to go to open because you can't have him at number 4. That top-3 now looks formidable," added Michael Vaughan.
Tendulkar and Sehwag formed one of the most intimidating partnership and collected over 3900 runs together, including 18 half century stand and 12 century stands. Vaughan further reckoned that Kohli-Rohit opening the innings will be a nightmare for any opposition. 
"I have always looked at intimidating opposing teams and when Virat Kohli and Rohit Sharma stroll out there, you've only got 120 balls, they will intimidate teams because you know the way they can play. They make batting looks so easy".
After a comprehensive 3-2 win in the T20I series, India will lock horns with England in the ODI series that starts on March 23. The fans, on the other hand, can get a glimpse of the Sachin-Sehwag partnership in the Road Safety series final where they'll open the innings for India Legends against Sri Lanka Legends.