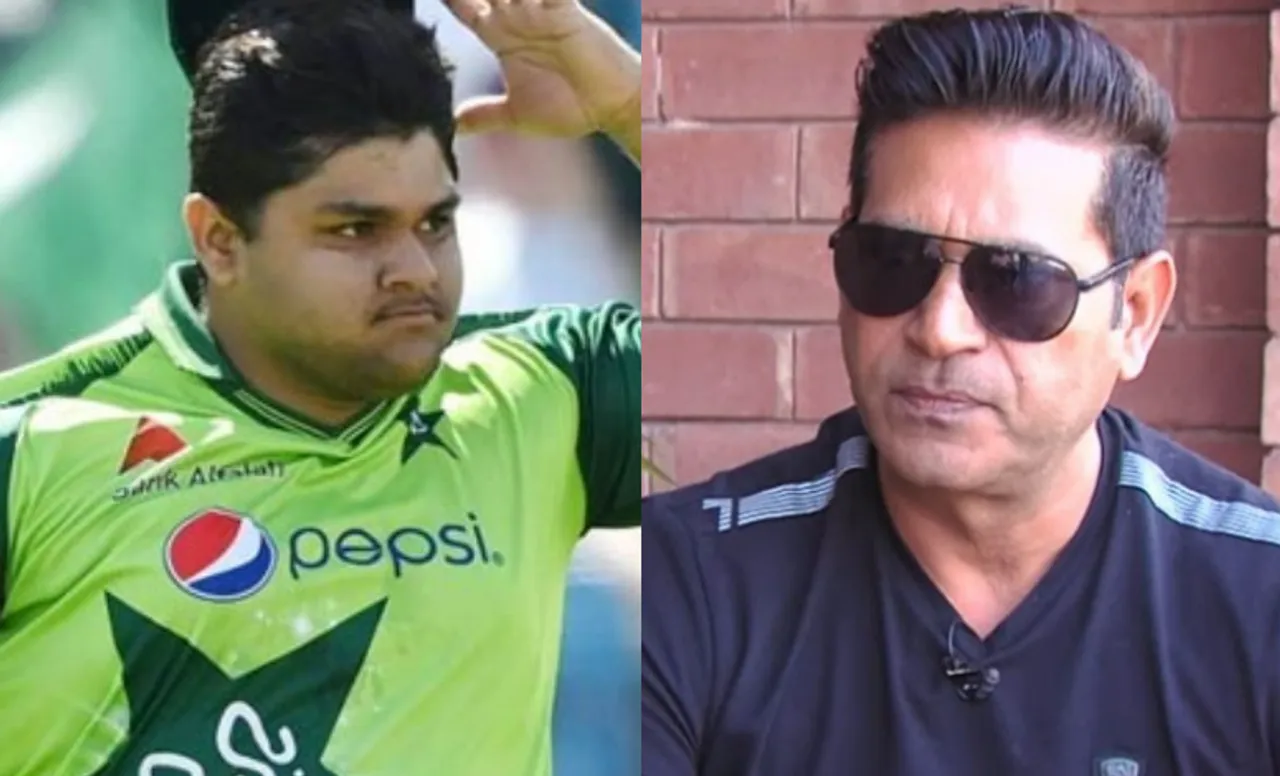 Pakistan recently played Afghanistan in a three-match home T20I series. But, they suffered a 2-1 loss as the Afghans made history. However, many new faces were given a chance in this series after their performances in the PSL 8. But, they failed to replicate such performances and Azam Khan was not an exception also.
In three matches, Azam Khan scored only one run in two matches. So, it was a very disappointing performance from the young wicket-keeper batter and fans were not happy at all. However, his fitness has been a concern since his introduction to cricket. Now, regarding the same matter, the former Pakistan cricketer, Aaqib Javed opened up and that video has now gone viral.
Here is the shared video:
Aqib Javed says he would have refused to play if his teammate had fitness like Azam Khan's. This is a pretty harsh statement. pic.twitter.com/Uu5L6GUh05

— Farid Khan (@_FaridKhan) March 28, 2023
"First at least attain some levels of fitness before playing." - Aaqib Javed's dig at Azam Khan
While talking to reporters, he shared his concern about the fitness level of players who are currently representing the Men in Green. Aaqib Javed said: "I am not sure what sort of experiment this was. It's clear to me that no consideration was taken when selecting the squad for this series about what standard of skills and fitness levels are needed to represent Pakistan". He further added that he would refuse his teammates to play with the same fitness level as Azam Khan.
"If I was a player in that squad, I would have refused to play with this team. First at least attain some levels of fitness before playing. Hopefully they will have learnt from this," Aaqib Javed concluded. In the recently concluded Pakistan Super League, Azam Khan was a formidable force with the bat. He was the highest run-scorer for Islamabad United as Azam scored 282 runs in nine innings. He scored those runs at an average of 40.28 and with a strike rate of 161.14. So, fans were not happy with such a harsh comment from the former Pakistan cricketer on the young wicketkeeper batter.    
Here are some tweets shared by fane over the viral video:
Kya bakwas admi he, players players hote hein tujhe un ki respect krne ka pata hi ni, mare jesa PCB chairman ho to ban laga de tujhe

— Moazzam Ali 🇵🇰 (@Moazzam92) March 29, 2023
Standing next to a fixer, audacity.

— Vendetta01_ (@rebelliousSoch) March 28, 2023
He is arrogant tbh , itna proud ly doby ga

— AyeshaArif (@AyeshaA76184532) March 28, 2023
Cheap statement... I would rather say

— Engr Suhail (@EngrSuhailAbro) March 28, 2023
Player se criceket khelwaani hai Yan modeling karwani hai?? Ajeeeb😬

— mirhaa🌸🌙 (@mirhaa__236) March 29, 2023
Ye bnda kuch ziada he Shokha ho Raha hai.. bht ghlt bt ki hai waisy yr

— Seraj ul haq (@Arman68524820) March 28, 2023
Why did he play with inzamamul haque then?

— tanwir (@tanwir12) March 28, 2023
Harsh very harsh it is disheartening for the youngster... Stay strong @MAzamKhan45

— KC Patil (@KCPatil9) March 28, 2023
Aqib bhai mujhe yaad aa raha aap injmam ul huq ke sath khele the ya mana kar diya aap ne wo fitness mai pro the 2 match ki performance se criticised nai karna chiye kisi ko bhi

— PARUL ( IPL LOVER ) (@Mahesh9999755) March 29, 2023