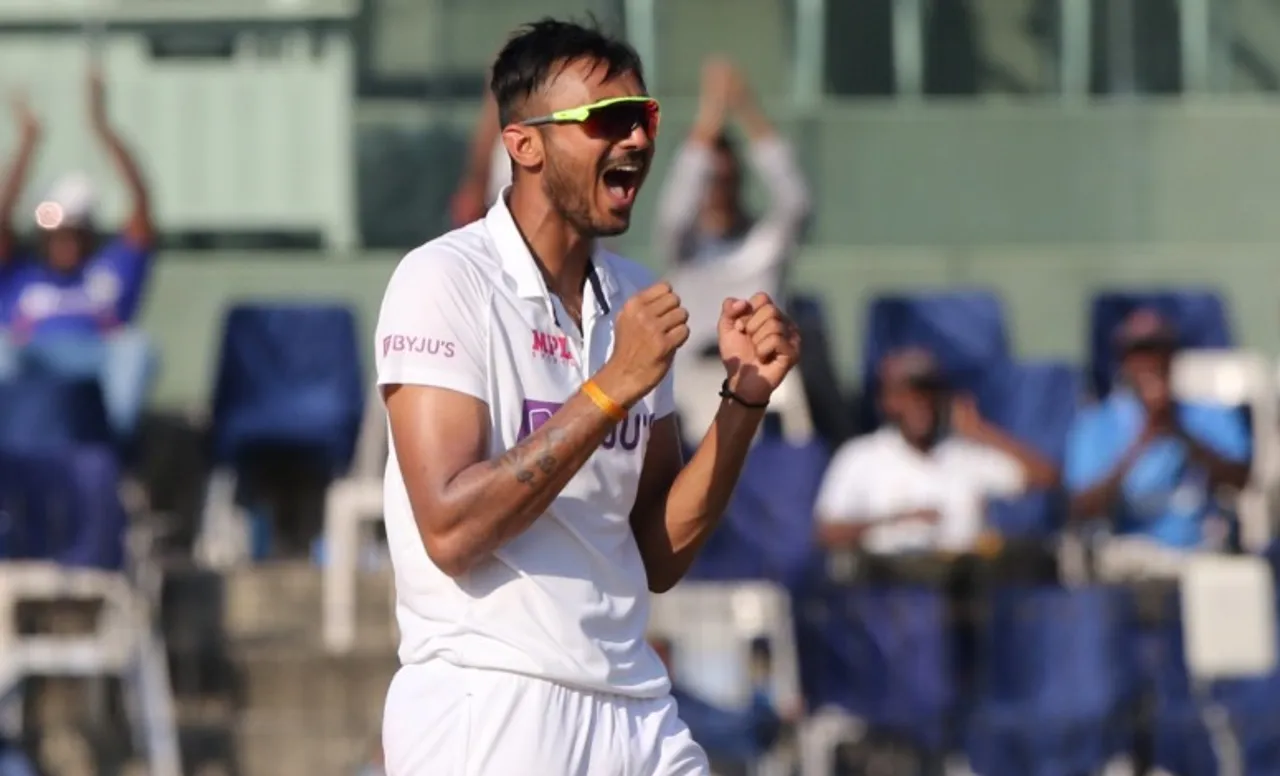 The pitch was assisting the spinners but credit must be given to Axar Patel for bowling tight lines and troubling the batsmen with his variations. The left arm spinner had a dream debut, picking up 7 wickets, as India thrashed England by 317 runs in the second test at Chennai. Patel, who picked up Joe Root as his maiden test wicket disclosed that he was confident that Root and co. won't find it easy to sweep against him. 
"I saw in the first match that he was playing a lot of sweeps and reverse sweeps. The pace with which I bowl, I knew he would find it difficult to sweep me. If he misses his shot, I have a chance to get him LBW or bowled or there could be a chance of getting a top edge," said Patel in the post match interview with Star Sports.
The pitch was doing a lot and Axar Patel knew that he only need to bowl in the right areas to get the job done. He did the same and reaped benefits with 7 wickets, including a 5 wicket haul in the match.
"So, my simple plan was that I will bowl stump to stump. I didn't have to do much because of the help from the wicket. I knew that if I keep bowling the good line and lengths, the batsmen will not be able to play me easily," added Axar Patel.
Talking about his strengths, the lanky spinner said that the experience of playing domestic and county cricket has helped him become a better bowler. He said that his abilities to continuously hit a spot has worked wonders for him.
"When I play Ranji Trophy and India A and in between I played county cricket as well, it is very important to bowl at one spot. So that experience helped me in my debut and my strength is that I bowl continuously at one spot," said Patel.
The Gujarat spinner further said that getting a 5 wicket haul in his debut match has given him a lot of confidence which he'll carry into the next match in Ahmedabad.
"When you get five wickets on your debut along with the wicket of the in-form captain of the opposition team, there cannot be a bigger confidence booster than that. We won the match as well, so we will go into my home ground with greater energy and I will show that confidence in the next match," signed off Axar Patel.
The third Test between India and England will be played under lights which may prompt Virat Kohli to bring in another seamer in place of a spinner. While Ravichandran Ashwin is a certainity, one of Axar Patel or Kuldeep Yadav may be dropped from the team.