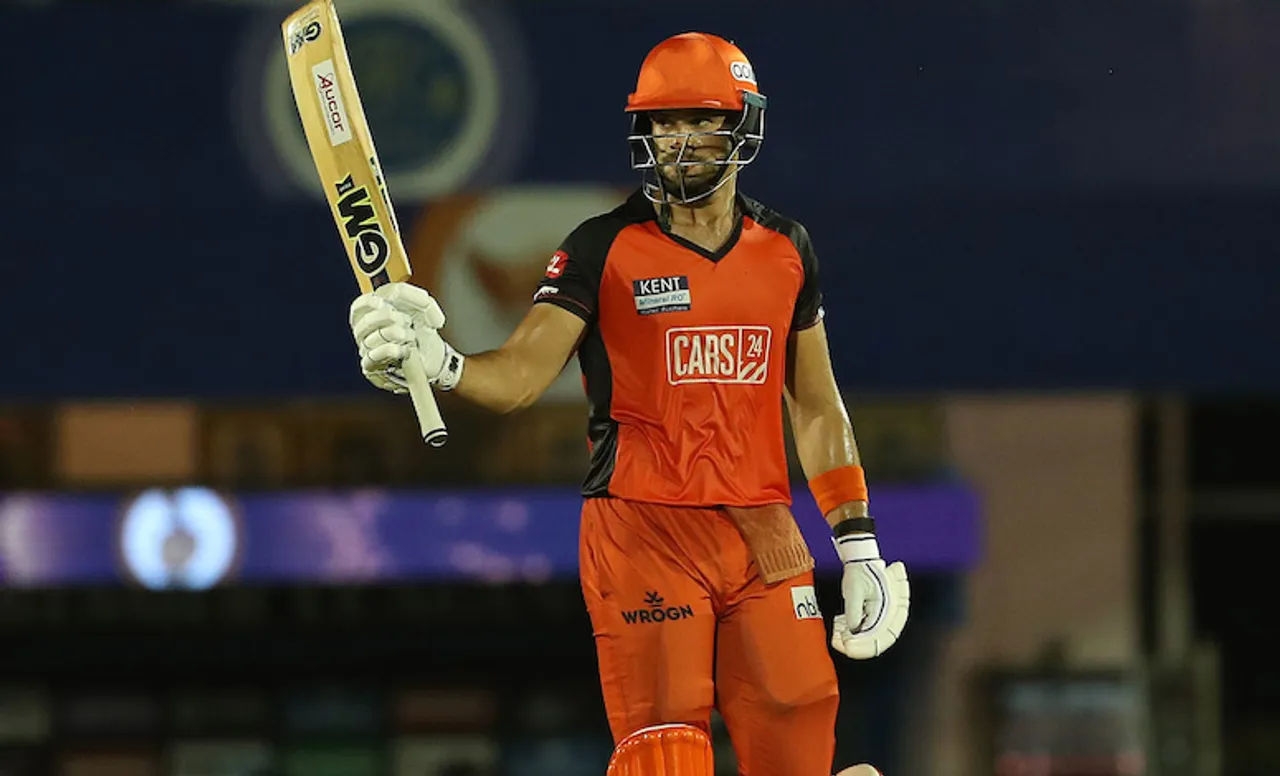 The Hyderabad franchise of the Indian T20 League announced their captain for the upcoming 2023 edition of the cash-rich league. Despite excellent Indian options in Mayank Agarwal and Bhuvneshwar Kumar, the franchise has selected a South African to lead the team in a surprising decision inviting reactions from fans on social media.
The official Twitter handle of the Hyderabad franchise posted on Thursday that allrounder Aiden Markram will lead the team for the upcoming edition. Notably, the 28-year-old led the sister franchise Sunrisers Eastern Cape to the summit of the inaugural edition of SA20, the premier T20 league of South Africa. The decision has undoubtedly sparked reactions from fans on the Internet who could not contain their disappointment at the franchise management.
'I am okay with captaincy, been doing it for a while' – Aiden Markram
Markram debuted in the Indian T20 League with Punjab in 2021. He later joined Hyderabad in the mega auction for Rs 2.60 crore last year. In 20 matches, he has scored 527 runs in the Indian T20 League, which came at an average of 40.54 and a strike rate of 134.10. A few days ago, the allrounder expressed his desire to lead the side in the Indian T20 League.
"What's going to happen, to be honest… either way, we back the management's decision about who they want to be in charge. Becoming the captain is not the be-all and end-all. You can be in some form of leadership role too. But I am okay with captaincy; it's something that I enjoy doing. I have been captaining for a while before this tournament started. It's been a nice experience, a fresh start; I would say," he had said.
Hyderabad were searching for a new captain following their release of previous skipper Kane Williamson last year. The star New Zealand batter will play for the Gujarat Franchise in the upcoming edition of the Indian T20 League.
Here's how fans reacted to this surprising announcement:  
Apno se jyada goron par bharosa hai kavya madam ko...#kavyamaran #mayankagrawal #aidenmarkram #IPL2023 #srh #Hyderabad

— Cricket Updates (@Cricket23002283) February 23, 2023
Mayank ko kyu nahi banaya KL ka compitater he isiliye kya

— Israk Thakor (@IsrakThakor) February 23, 2023
Ab ye bhi out of form ho jaega

— Shardul Thakur 🗨️ (@asliwiseman) February 23, 2023
SRH owns my idolo Chamiya Chokli and his team pic.twitter.com/qoNVxZqBJo

— 12th Man 🇦🇺 (@KingKholi911) February 23, 2023
0 cares for SHaarH

— Himanshu (@taqdeer_wala) February 23, 2023
Underrated franchise 🧡 Great decision

— Bigg Boss Khabri (@bigggbosskhabri) February 23, 2023
Who cares about the tinpot franchise pic.twitter.com/pv0Blfazqd

— 𝙿𝚂𝚈𝙲𝙷𝙾™ (@VIRATIAN18_DHFM) February 23, 2023
Keeping foreigners as captain is always not a good decision in IPL. Why does SRH keep doing this?

— Avatara Lingan🌏 (@Jaishiv64135790) February 23, 2023